It's time to take your pole dancing to new heights with 8" Pleaser heels! Get ready for an exciting journey as we explore the world of these towering beauties.
But before we dive in, let's break down the anatomy of these heels.
Heel Anatomy
Heel - The namesake of the footwear, this is what determines the height of the shoe.
Insole - Cushioned or supportive layer that provides comfort and some shock absorption as you dance.
Strap - Keeps your shoe attached to your feet! Some models come without straps, but removable straps can be purchased separately. Straps also help provide additional stability when you dance.
Vamp - Upper part of the shoe that covers the front of the foot, including the toes and the area leading up to the instep
Toebox -  Front part of the shoe that surrounds and provides space for the toes. Can fully cover the toes or be styled in an open toed manner
Platform - Elevated part of the sole that increases height. In general, the bigger and taller the platform, the more gentle the curve at the front edge of the platform.
Outsole - Bottom part of a shoe that comes into direct contact with the ground. Rubber outsoles provide traction while you dance!
Top Piece - Also known as the heel tip, it comes into direct contact with the ground and helps provide traction. 
Available 8" Styles
Pleaser has a whopping 10 styles of 8" Pleaser heels to choose from, each offering a wide array of models in various captivating colors and stunning styles. Let's check out a few examples:
Discolite (Translucent platform)
Flashdance (Clear platform)
Illuminator (Translucent platform)
Platforms
All Pleaser 8" (203mm) heels feature a 4" (102mm) platform, with exceptions seen in:
Craze series - 3" (76mm) platform
Enchant series - 3 ¾" (95mm) platform
If you are looking for a platforms to do the signature pole dancer shoe clacks, look for hollow platforms e.g. Chrome shoes with minimal to no embellishments.
Toebox & Vamp
Compared to the rest of the series, the Naughty series features a wider vamp and toebox for polers with wider feet! They can also be distinguished by their red pleaser label on the insole! Pleaser offers a gold label on the insoles for other series!
Straps
There are generally 2 basic strap styles. The thick strap (commonly on 808 models) and thin strap (commonly on 809 models).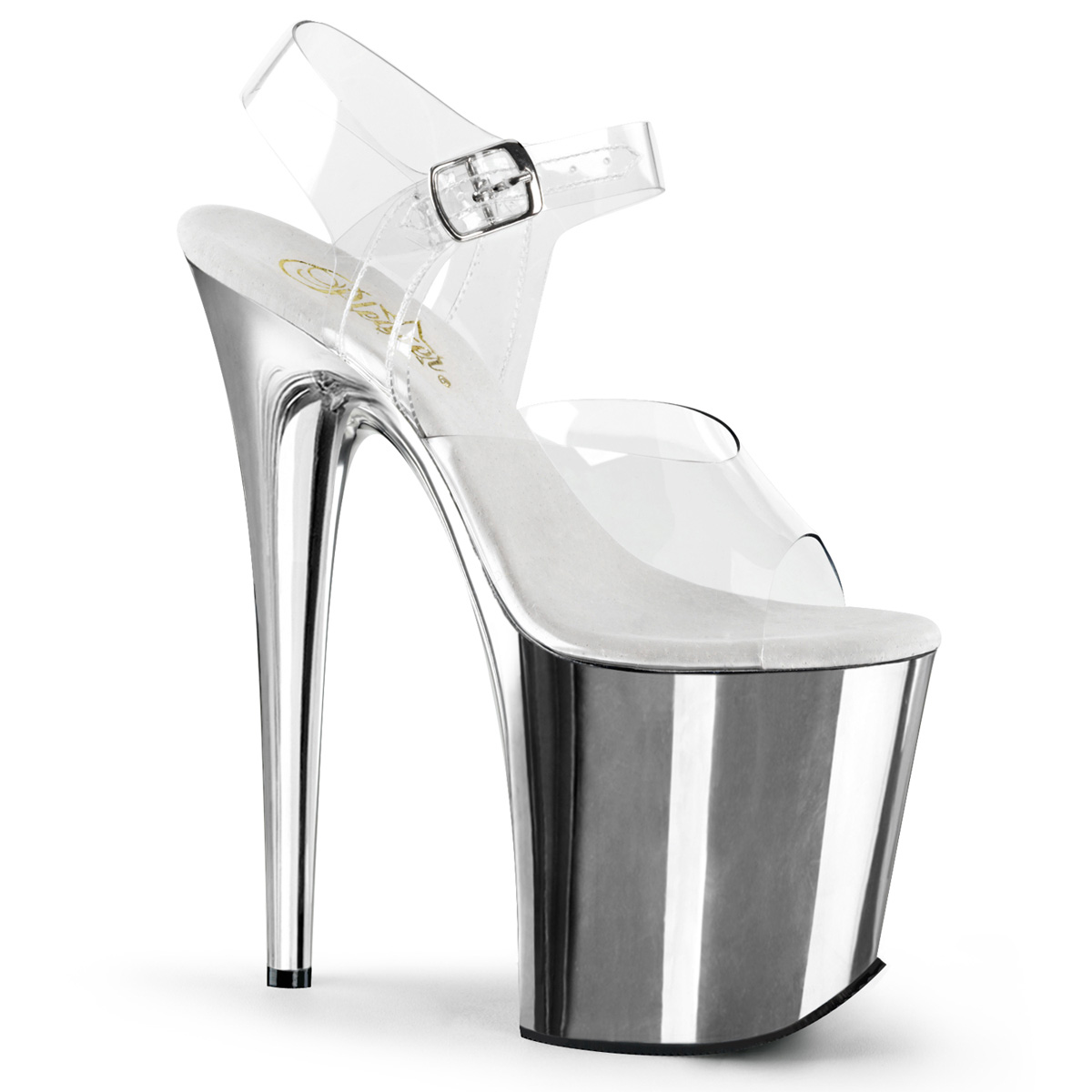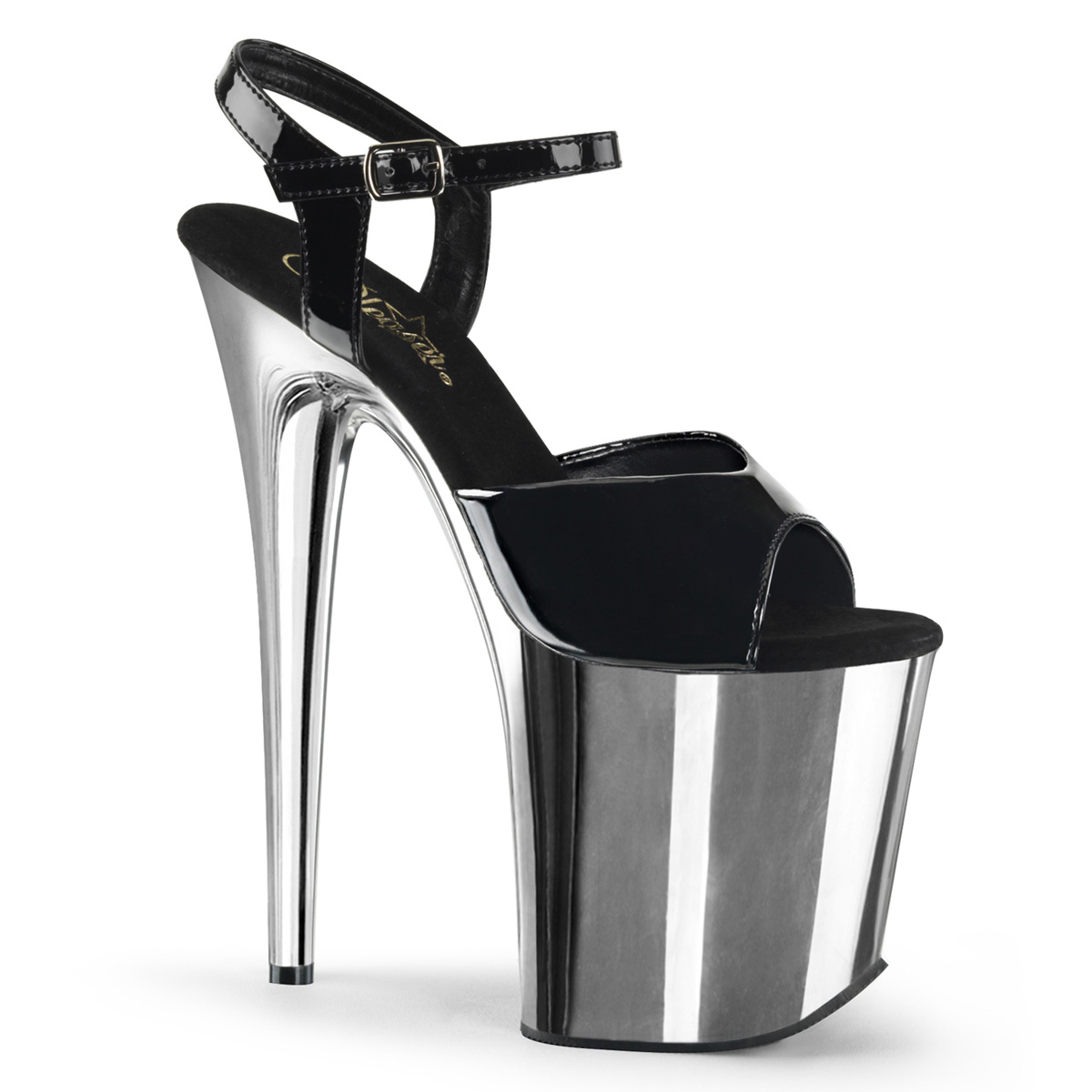 Thick Straps

Thin Straps

Stability & Support

✔✔✔

✔

Comfort

Can cause abrasions to skin before the stiff new strap is broken in

More comfortable out of the box

Durability

✔✔✔

Due to thickness

✔

Tends to stretch out faster

Aesthetic

Has a bulkier look, limited colour selection

Has a sleeker look, offered in plenty of colour choices

Freedom of replacing broken straps with the same thick straps style

Only able to replace with thick straps if straps break
 Note: The straps on the Flamingo 808N model is made up of a softer plastic material than usual thick straps seen on Pleaser shoes. If you find the usual thick straps uncomfortable, check out the Flamingo 808N model!
If you wish to find shoes which offer even more stability than the thick straps, look out for models that have one or more of the following:
Has a counter that wraps around your heel
Covers your instep
Additionally secures the shoe to your lower shin
Some of our favourite picks are: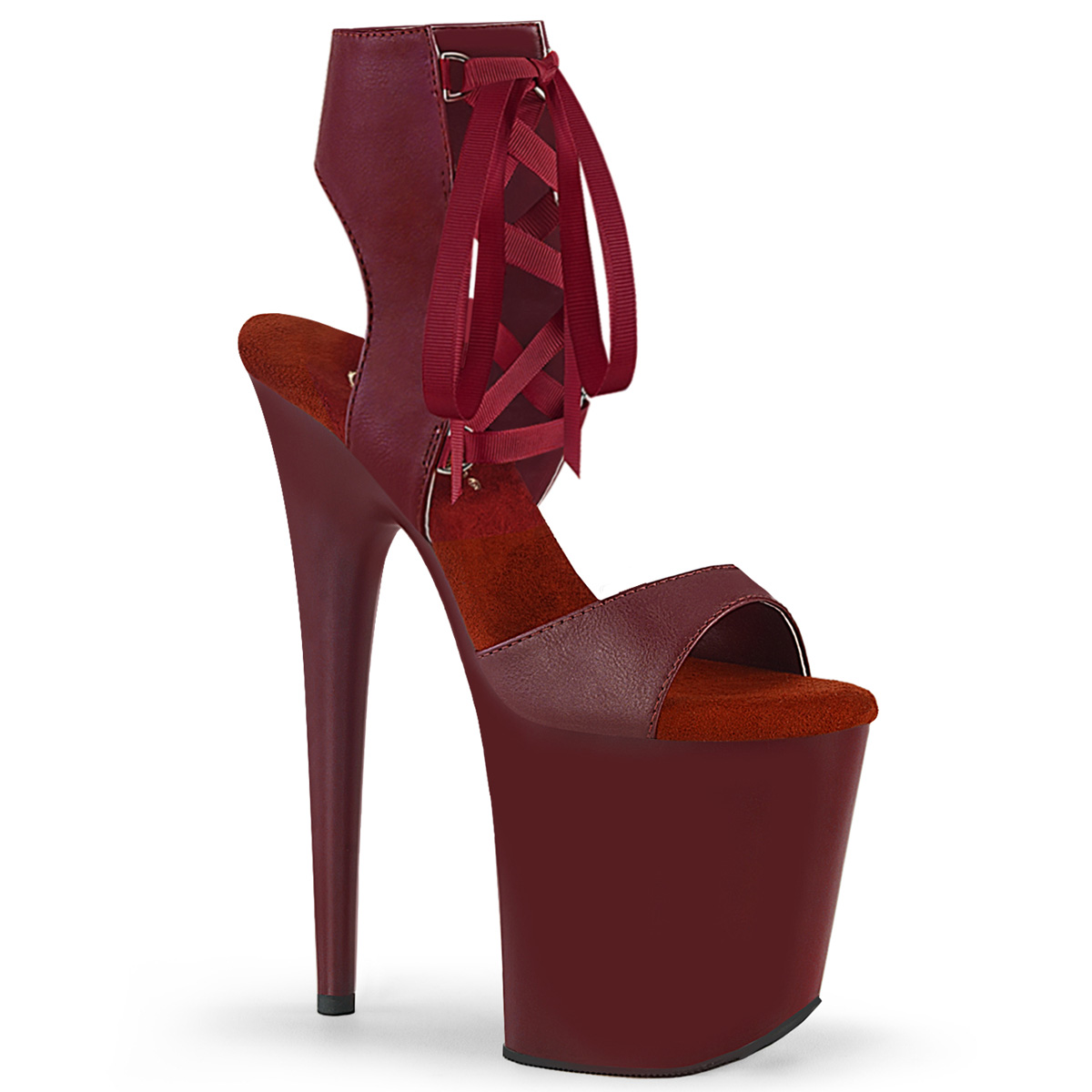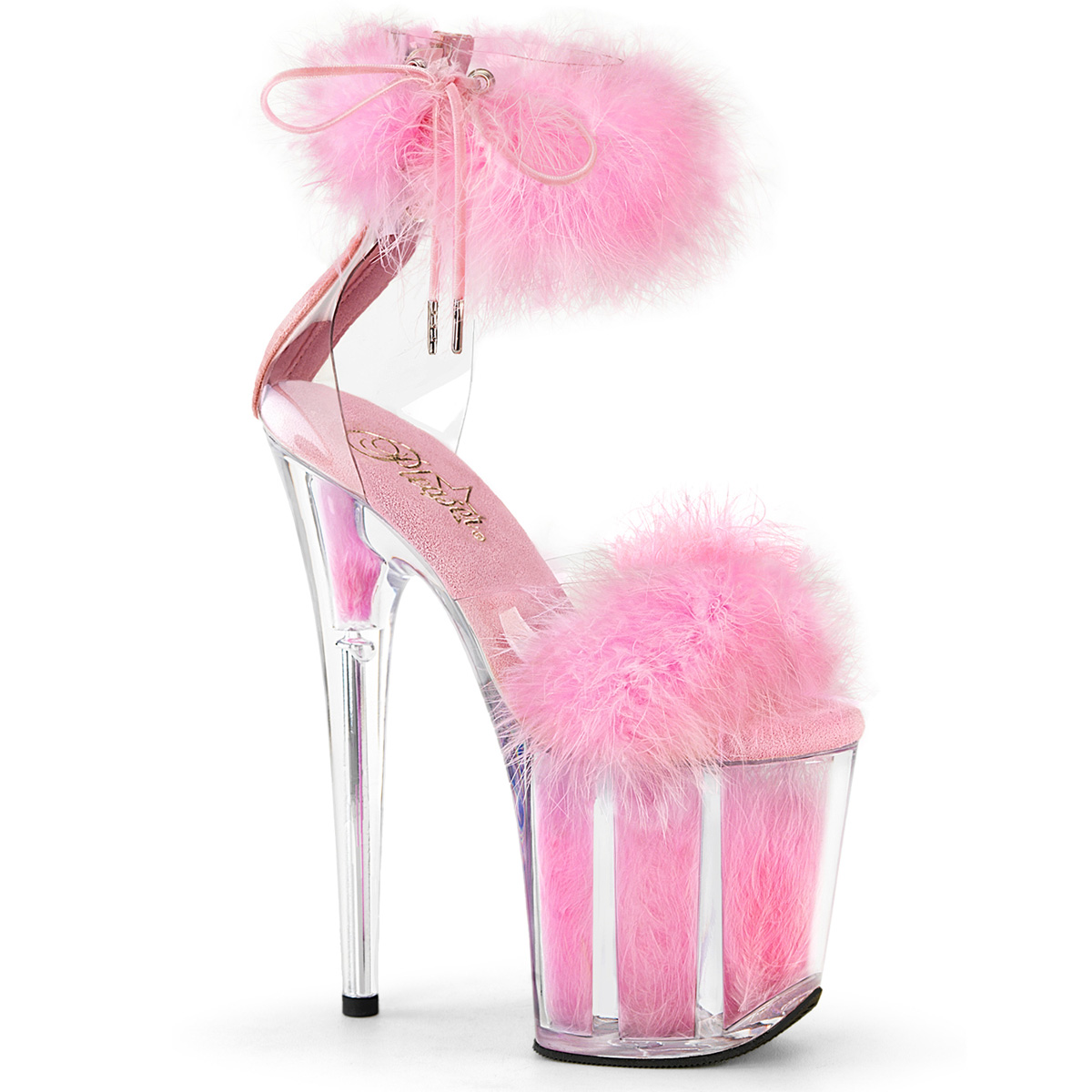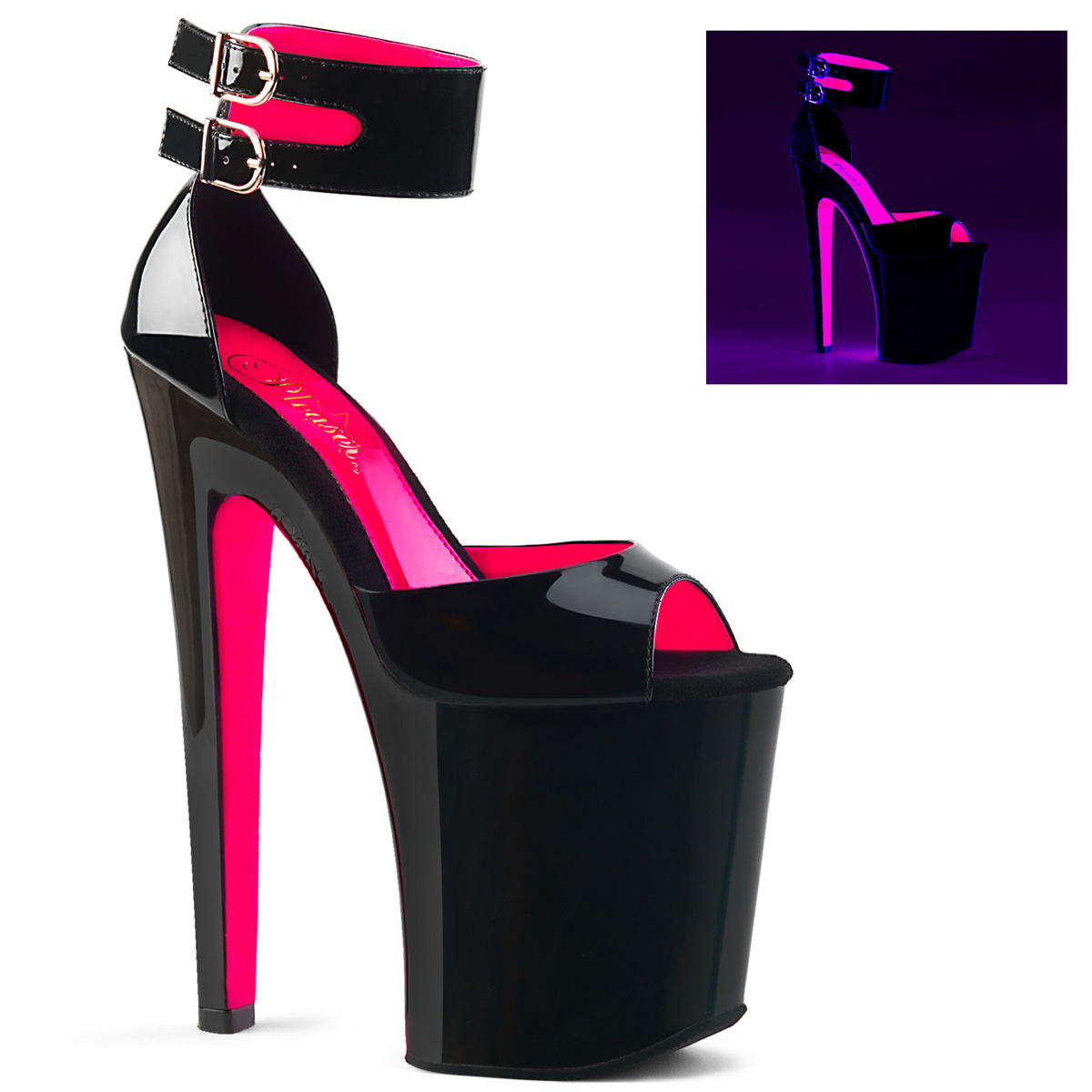 Heel & Top Piece
When it comes to top pieces, Pleaser offers three distinct shapes, each with its own advantages. Dimensions below are taken from (left to right) Flamingo 808 RC US 6, Xtreme 808 CRS US5, Enchant 708 Aqua 03 US 5.
In general, there is a relationship between the thickness of the heel and the size of its top piece, which impacts the stability of the shoe. As the heel thickness increases, the top piece tends to become larger, resulting in a more stable shoe overall.
Ranking the heel in terms of stability in descending order, it would be as follows: Semi circle, Prismatic, Circle.
Circle Top Piece: The circle top piece is widely adored and can be found in six out of the nine available heeled series by Pleasers. It boasts a sleek and slim profile, making it a favorite among many pole dancers. Not only is it versatile for various pole dance genres, but it's also often the lightest option, allowing for greater ease of movement.
Semi Circle Top Piece: If stability is your priority, the semi-circle top piece is your best bet. With its wider base, it offers excellent stability and a solid foundation for your pole dance routines. This top piece style is particularly well-suited for beginners who are just getting comfortable with 8-inch heels. It's worth noting that shoes with this top piece style may be slightly heavier due to the chunkier heel.
Prismatic Top Piece: Pleaser's latest design innovation, the prismatic top piece, features multiple edges that enhance traction and grip. It is typically paired with heels of medium thickness, striking a balance between stability and maneuverability. The prismatic top piece provides invaluable support as you twirl, spin, and pivot around the pole, ensuring you can execute your moves with confidence.
Material
In general, when it comes to the durability of different shoe surfaces, we can observe the following tendencies:
Easiest surface to scratch - Wrapped platforms such as Chrome and Glitter wrap, Glitter heels, Faux Suede, Leather, and Faux Leather are more prone to scratching and scuffing. These materials can be more delicate and require extra care to maintain their appearance. You can consider covering them with Pleaser protectors or Phoenix wraps!
More durable surface - Rhinestone-encrusted styles, Patent finishes, and Bare platforms (e.g., tinted) tend to be more durable.
Keep in mind that even with more durable surfaces, it's essential to treat your shoes with care to prolong their longevity. Avoiding rough surfaces and regularly cleaning and protecting your heels can help maintain their pristine condition.
Weight
The weight of your shoes can be influenced by various factors. For instance, the type of platform, such as a hollow platform or a water-filled platform, can impact the weight. Additionally, different materials used in the construction of the heels, such as patent or leather, can contribute to variations in weight. Furthermore, embellishments like rhinestones and LED lights can add additional weight to the shoes.

In terms of basic models, if we were to rank the weight in descending order, it would be as follows: Xtreme 808 Clear, Enchant 708 Clear, and Flamingo 808 Clear. These models tend to be lighter compared to others.

On the other hand, embellishments like LED lights, water elements, encrusted rhinestones, and metal hardware can make the shoes heavier. For example, Flamingo 858 and Flamingo 861 may have additional weight due to these decorative elements.
Author's comments
Hello! I'm Alicia and I have been immersed in the world of pole dancing since 2020. I must admit, I have quite the collection of heels because I love wearing different styles for various occasions.
When it comes to choreographies packed with pole tricks and inversions, I prefer lighter heels that allow me to move with agility and precision. I'm currently in love with the Flamingo 808 RC, because, RAINBOW. They also give the loudest clacks.
For floorwork classes with plenty of twirls, pirouettes and turns, I find myself reaching for my Xtreme 808 CRS more often, ever since they were released, as they keep me grounded as I find my bearings while pretending I'm not dizzy.
When it's time to capture those picture-perfect moments during photoshoots, showcases, and video filming, I love to make a statement with fully embellished heels. My absolute favorite pair for filming is the Flashdance 808 SQ, featuring mesmerizing multicolor LED lights and sparkly sequins that add an enchanting touch to my performances. The best part? They are surprisingly lightweight, allowing me to move with ease and confidence.
While all my heels serve me well, I've noticed that my Enchant heels, with their prismatic edges, show a bit more wear compared to others. In the photo below, you can see a small chip on the edge if you look closely. However, rest assured that this minor chip on the edge doesn't affect their functionality or traction.
If you're considering your first pair of 8" heels, I highly recommend taking a closer look at the Enchant series. They strike a perfect balance between stability and weight, making them an excellent choice for beginners and experienced dancers alike.

Although the Enchant series currently offers a smaller selection of colors and designs compared to other Pleaser styles, I'm confident that Pleasers will be expanding the collection in the near future. Keep an eye out for new additions that will surely add even more options and variety to this already impressive series.
PS: Pleasers, could you please please make the 7" Moon series in 8" please? Those are my first love!
Psst... To shop for your new 8" Pleasers, check out our instocks or place a pre order!